Hamble Winter Series 2017 - Day 7 Race Report
Published 11:35 on 24 Nov 2017
Hamble Winter Series 2017 - Day 7 Race Report

Flat seas and sunshine at the Hamble Winter Series
With a forecast of light and dropping winds, the race team set a course for each class with short legs and multiple shortening options. With 5-7kts across the course, the start schedule was completed on time, though the desire to get away was too much for some and the individual recall flag was put to much use.
There were plenty of tactical decisions to be considered and gains were generally made by those hugging the shore, away from the increasing west going tide. The wind continued to hold as the fleets finished in bright sunshine.
John Noe (La Nef IV, IRC3) commented: "Sunday's race was a dream, with ideal, but tactically challenging conditions. The whole crew enjoyed the sun, flat sea and non boat breaking conditions."
As well as podium places, the race team award additional spot prizes each week, one for the best start of the day, the other for the best boat – based on distance sailed and corrected time. Sunday 19 November was a small boat day as Jeffrey Dakin's Flashheart in IRC4 scooped the prize for best boat.
Taking line honours and 1st place in IRC1 was Louise Makin's Journeymaker II, who had a film crew out to capture the occasion.
With the last day of racing and Series Prizegiving next weekend, there are clear leaders in some Classes, where others are still battling for podium places. With 10 points, Chaz Ivill's Davanti Tyres leads IRC1. Only two points separate Richard Patrick's Dusty P in second place with 22 points and Malcolm Wooton's Pegasus in third place on 24 points.
In IRC2, the battle is even closer. Mike Moxley's Malice was second in Sunday's race and tops the overall table on 9 points. First on Sunday and second in class overall is Simon Perry's Jiraffe on 19 points, with Robbie and Lis Robinson's Hot Rats third on 19.5 points.
In IRC3, Andy and Annie Howe's Blackjack was second, and leads overall with 13 points. First on Sunday and second overall is Robin Stevenson's Upstart – last year's Yacht of the Series. Third overall, and leading the Sigma 38s is Vanessa and Chris Choules' With Alacrity.
Stuart Danby's Respect leads IRC4 overall with 9 points. Second overall is Jeffrey Dakin's Flashheart with 14.5 points, 4.5 points ahead of Toby Gorman's Stan the Boat on 19 points. The leading Impala on Sunday was Olly Bewes' Magic.
In the J/88 class, Avia Willment's * has set up a good overall lead with 8 points. Second overall with 18 points is Gavin Howes's Tigris, from Tim Tolcher's Raging Bull on 22 points. Hot on her heels and only one point behind in fourth place is Jongler.
The race team are looking forward to the final day's racing on 26 November with day prizes from the Impala Association followed by the overall prizegiving.
Thanks as always go to Paul Wyeth, our Series photographer. Anyone looking for Christmas presents will find a wide selection on his image galleries.www.pwpictures.com
Ends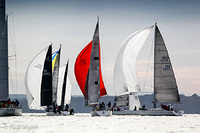 Last updated 14:12 on 24 September 2019