HYS Hamble Winter Series Big Boat Dates
Published 09:52 on 21 Sep 2020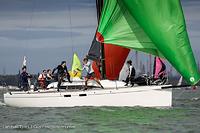 HYS Hamble Winter Series Big Boat Dates
The races to determine this year's Hamble Big Boat Champion have now been fixed. The Hamble Star Trophy, will be awarded to the boat with the best score from the races on the 4th October and the 17th and 18th of October. With two races planned for the 17th that will make a total of four races with no discard.
Last year's champion, ICY, Melges IC37, Ian Atkins, has already entered to defend her title. She will receive stiff competition from, amongst others, the Performance 40 Class. This year's J-Cup Class 1 winner Juno, J/122, Christopher Daniel has also entered the fray.
The Hamble Star Trophy was presented to HRSC in 1934 by the Household Brigade Yacht Club. It is presented in memory of Jane Windsor.
Another early entrant to the HYS Hamble Winter Series is Gentoo, Sunfast 3300, Dee Caffari, winner of the Double Handed division of the recent RORC National IRC Championships. Gentoo is taking advantage of the invitation for double handers to enter the winter series for the first time in 2020.
For online entry to the 2020 HYS Hamble Winter Series got to: www.hamblewinterseries.com
Trevor Pountain
Last updated 09:52 on 21 September 2020