HYS Hamble Winter Series Race Week 1 3rd & 4th October.
Published 09:31 on 9 Oct 2020
HYS Hamble Winter Series Race Week 1 3rd & 4th October.
It is often the case that a series with the word "winter" in it starts with a week or two of an Indian summer.Not HYS Hamble Winter Series 2020, however. The remnants of storm Alex meant that the first weekend was always going to be challenging both in terms of course setting and course completion.
The rain, so persistently forecast, was indeed in evidence as the committee vessel left the Hamble on Saturday morning and headed appropriately for 4J (hamblewinterseries.com), to wait for the sixteen strong Performance 40 Class. In the end PRO Peter Bateson set up shop just south east of 4S (Royal Southern), and pondered what on earth to do with a forecast of a light breeze that was going to go 70 degrees to the right during the three race day.
By 10.00 hours, the rain had just about stopped and a four and a half mile windward/leeward course was planned with the breeze coming from just east of south. The fleet got away well in 6 knots of breeze, but when it faded to 3 knots, half way through the course; the decision was taken to shorten. Cobra, the King 40 of Stevie Beckett, came home first with Zero 11, Mills 39, James Gair, one minute thirty seconds back in second and Kestrel, J111, Simon Bamford a further two minutes and seven seconds back in third.
The second race was a shorter 3.2 mile affair with a 0.8 mile leg length for the ups and downs, using the ODM as the leeward mark. Ed Bell's Dawn Trader, JPK 1180, improved on her first race fourth place to win Race 2. She was 90 seconds ahead of Juno, J122e, Christopher Daniel, with Journeymaker 11, J111, Louise Makin & Chris Jones, unable to hang on to second place despite a 1 second advantage on the water.
By the start of Race 3, the tide was running hard to the NW. Hill Head was the windward mark and an up tide spreader mark was placed at 300 yards. The fleet got a bit excited and forced a general recall when approximately half of them were OCS. The flying of flag Zulu for the second start had the desired effect and the fleet enjoyed 6 10 knots of breeze for the last race of the day. Zero 11 came home first with Dawn Trader only 24 seconds adrift.Jitterbug, J111, Cornel Riklin was in third. The overall placings for the P40 fleet were Dawn Trader 7 pts, Zero 11 9pts and Cobra 13 pts.
By 20.30 hours on Saturday night it was clear that Sundays weather was not what was required in these Covid influenced times. Sailing with reduced crew numbers in 25 30 kts with gusts of 34 37 kts was not a sensible prospect and Pete Bateson sensibly cancelled to give everyone plenty of time to make other arrangements for the rest of the weekend. The start of the main Sunday series would have to wait.
Next week, all things being equal, will see the start of the Hamble One Design Championships for J70's and SB20's, who will race for two days and the three IRC Classes will hope to start sailing on the Sunday.
Full Results: https://www.hamblewinterseries.com/page/results-by...
Trevor Pountain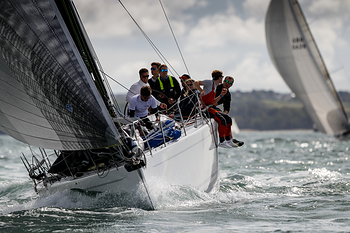 Last updated 09:31 on 9 October 2020