HYS Hamble Winter Series Race Week 3
Published 14:12 on 20 Oct 2020
HYS Hamble Winter Series Race Week 3
Hamble IRC Autumn Championships
If there were any doubts that competitors were not taking things seriously in this return to sailing period, they were soon dispelled on the Friday before racing. At 12.30 Tokolshe 3, Cape 31, David Bartholomew was spotted returning to the Hamble after a fully crewed practice session. Twenty minutes later ICY, Melges IC37, Ian Atkins, left the river to try out their new spinnaker and increased rating.
Saturday saw the start of racing for the two days of the Hamble IRC Autumn Championship. Fifty eight teams went out over the weekend, including a twenty five strong Class 1, who were also battling for the Hamble Star Trophy for the best" Big Boat." That world renowned snapper from the Isle of Wight, Paul Wyeth, declared it was "The best turn out all season."
Conditions looked tricky for all concerned from the forecasts light winds from the NE on Saturday and three fifths of sod all on the Sunday. The CV Condor went to East Knoll to start Race 1 on Saturday and laid a couple of windward marks and a couple of leeward marks to allow for the predicted shift in the wind.
This turned out to be the best breeze of the weekend and the 25 strong IRC 1 had a great first race and finished in a big bunch with the top four separated by only I minute 30 seconds on corrected time. Sailplane, MAT 12, Rob Bottomley, was first with Darkwood, J/121, Michael O'Donnell, in second. Ian Atkins new spinnaker dragged ICY into third place. The second race turned out to be somewhat ambitious as the wind died earlier than predicted. Who would be a Race Officer? The beats became long in the strengthening spring tide and after two hours, Tokoloshe 3's Friday practice paid off, as they kept moving and according to Ian Atkins "Won by a country mile!" Zero 11, Mills 39, James Gair, came second and Sailplane staged a great recovery on the second beat to grab third place.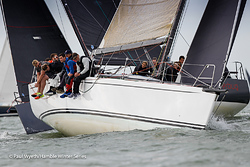 In IRC 2, the hostilities between the two J109's of Simon Perry and Mike & Susie Yates, were quickly re-joined.Jago, Mike & Susie, made the most of the first beat by staying south of the North Channel. They arrived at the windward mark first only to be interrupted by a wine glass, in the spinnaker that is, not the cockpit. This meant they spent some time going down tide allowing Jiraffe, Simon, to slip through and gain control of the race. Jiraffe finished 1st with Gentoo, Sunfast 3300, James Harayda , in second. However, having stacked her crew somewhat maybe she should be called Genthree?Arcus, A35, Paul Newell and John Howell, was third.
IRC 3 is seeing a mix of sizes and vintage, as the older classics with their age allowance mix it with the more modern smaller boats. This week, Peter Morton brought out his Swan 36, Scherzo, and proceeded to finish in first place on corrected time, despite being second on the water to that other classic, Firebrand, S&S 43, Ramona-Ann Gale. Second place went to the relatively tiny Corby 25 of Sophie Chudziak and Bertrand Malas.Gr8 Banter, Mustang 30 Mk2, Ian Handley and Tim James, was third just pipping Justify, the J/80 of Ross Bowdler. It's testament to the IRC that this disparate group of designs and ages were only separated by a few minutes both on the water and on corrected time.
The failing breeze meant that only Class 1 managed to finish the second race on Saturday.
As already stated, the forecast for Sunday did not look positive. PRO Peter Bateson was determined to give it a go, if at all possible, and his Saturday night WhatsApp enthused "We are going to try. It only needs a couple more knots of breeze and we'll get some racing." The Race Team went out on time and at 09.13 the message was "We currently have 4-5 knots of breeze from the North. Suggest boats come out and join us." Peter set up a short 0.8 mile course of loops to keep the fleet close for the expected failing breeze, not to mention the start of the spring tide ripping in the wrong direction. As it turned out every class was shortened by radio Amendment 3, which allowed at least some of them to have a race.
IRC 1 spoiled the plan to get everyone away quickly, by forcing a general recall. "A crucial loss of 10 minutes!" was the only printable comment from those classes waiting patiently behind them. The upshot of this was that in IRC 3, only four boats managed to finish. J'ronimo, J/92, David Greenhalgh, finished a comfortable first. Gr8 Banter was second, and Quokka, Half Tonner, Peter Rutter and James Crew was third. Both first and third only came out on the Sunday which somewhat spoiled their chances of winning the weekend overall. J'ronimo managed third overall due to 13 retirements on the last race. IRC 3 Champion was Gr8 Banter with Firebrand second.
In IRC 2, Race 3 started with Jiraffe, Jago and one other boat OCS. Although this call by the Race Team was hotly disputed on Jago, they duly returned with Jiraffe and set about recovering the situation. They repeated their tactics from the first race, this time without any spinnaker trouble and came home first. Jacana, J/105, Mark Stevens was second and Jiraffe was third. A fourth place for Arcus meant they were third overall with Jago second and Jiraffe IRC 3 Autumn Champions.
With the benefit of going first, eventually, IRC 1 with their greater speed managed to get 16 boats to the amended finish. Everyone knew the Cape 31 was quick in a blow, they now know she is quick in the light too! She beat ICY on the water, as well as all the others. Gelert, Corby 36, James Howells was second and Icy was third. All that Friday practice clearly paid off. The overall positions for the IRC 1 Autumn Championship were: 1- Tokoloshe 3, 2- Gelert and 3- Jitterbug, J/111, Cornel Rifkin. Tokoloshe 3 also walks away with the Big Boat prize, The Hamble Star Trophy, presented in memory of Jane Windsor.
Peter Bateson and the Race Team are to be congratulated in getting three races run in such trying conditions.
The day sponsor on Sunday was Paul Jones Merchant Agency.
Full Results: https://www.hamblewinterseries.com/page/results-by-hals
Paul Wyeths great pictures can be viewed and purchase here: www.pwpictures.com
Trevor Pountain
Last updated 14:12 on 20 October 2020