HYS Hamble Winter Series 2018 Week 4
Published 10:20 on 8 Nov 2018
HYS Hamble Winter Series 2018 Week 4
With the wind forecast to be in the North East, and plenty of it, PRO Kathy Smalley and her race team set up shop on Sunday morning in the vicinity of East Knoll. The decision for the skippers to go out racing may have been influenced by the fact that this week's day sponsor, MDL Marinas, were offering a free summer lift and scrub to the winners in each class. Even second place yachts would get a half price scrub.
Thirty six boats made it to the start area where 28 – 32 knots were being recorded on wind instruments. Hot Rats, Robbie and Lis Robinson, decided to bail out early, go home and start saving for their next lift out. They were accompanied by three or four others. Once again, for the second week running, the decision to be made on the Committee Boat was: Do we or don't we? With a beautiful sunny day and a good turn out the Y Flag was raised and a course was set.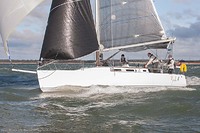 The idea was for the fleet to head off upwind to Hill Head, and then via Calshott, to Royal Thames up on the Lepe shore. This would ensure in the conditions that no big boats were barrelling downwind whilst their smaller cousins were still thrashing up to the mark. From Royal Thames a sleigh ride down to the finish near hamblewinterseries.com completed the fun. "A bit of an orienteering course" as Barney Smith put it. Barney was sailing Imptish for the first time since a hand operation. When the main split on Imptish before the start, two reefs were applied and off they went.
Big, heavy, winter winds often persuade sailors to protect their new racing sails and bring out old Dacron or Mylar alternatives. Peter Baines, manning the pin end boat, is convinced he saw Cetewayo flying a No 4 made when he used to work at Relling Sails in a previous century. A few, with tough modern composites or iffy reef points, sailed with a full main, but reefs were generally the order of the day.
The next big decision for skippers in blowy conditions is whether or not to bring out the big coloured thing at the front of the boat. John Noe and his crew on La Nef IV decided against a kite and as John put it "paid heavily for the pleasure!" Having given up so much time to their competitors they had to console themselves with Caramel slices on the way back to the mooring. Those who went with spinnakers and avoided broaching did well.
The first two Class 1 boats back at the finish, Xinska, Bernard Olesinski, and Dusty P, Richard Patrick, managed to trawl their spinnakers at the bottom of the leg. This allowed Davanti Tyres, Chaz Ivill and Paul Heys, to save their time by over a minute and take first place. In Class 2, Kirsty and David Apthorp, in the J88 J-Dream, took line honours, but it was only enough to split the two J109s, Jiraffe, Simon Perry in first and Jago, Mike and Susie Yates in third.
Despite their renowned heavy weather prowess, Chris and Vanessa Choules in With Alacrity could only manage second place behind Scarlet Jester, Jamie Muir in first. This is becoming a bit of a battle in Class 3 with only one point separating the two overall. J'ronimo, David Greenhalgh, scamperd round to record a well-earned third place. In Class IV, Gr8 Banter, Ian Handley scored his first bullet of the series, and went away with a voucher for the free MDL scrub. Toby Gorman, Stan the Boat, made a rare appearance at the prize giving and was rewarded with a half price MDL scrub voucher. M.Enfin?!, Sophie Chudziak and Betrand Malas, maintained their consistent run, buthad to settle for a bottle wine in third place. Being French this was probably no hardship.
Next weekend sees the mid series break of the HYS Hamble Winter Series, so, both crews and race management teams can recuperate and prepare for the four week dash to December.
Trevor Pountain
Last updated 15:12 on 24 September 2019