Inaugural Spinlock IRC Autumn Championships opens the 2017 Hamble Winter Series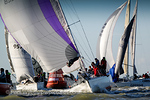 Press Release
Inaugural Spinlock IRC Autumn Championships opens the 2017 Hamble Winter Series
Hamble, UK, 14 August 2017: The first weekend of the Hamble Winter Series, the UK's premier Winter Sailing event, will see the hosting of the first ever Spinlock IRC Autumn Championships to be run in the Solent. Racing will take place on Saturday 30th September and Sunday 1st October with three races planned for the Saturday and two on the Sunday.
Hamble Winter Series PRO Stuart Childerley commented:
"We are delighted to run the inaugural Spinlock IRC Autumn Championships at the start of the 2017 Hamble Winter Series. Owners will get the opportunity for some competitive and exciting IRC racing before continuing with the country's premier winter race series."
This year is the 36th running of the Hamble Winter Series, which constantly evolves to remain attractive to owners and their crews. The organisers are delighted that the Grand Prix Fast 40+ Class are returning for Round 5 of their 2017 race circuit on the weekend of 14th and 15th October.
Also back again is the Hamble One Design Championships, on the 7th and 8th October and the 21st and 22nd October. J/70's, J80's and SB20's will be competing in the championship along with any other OD Class that can raise eight entries.
The Main Series will run for eight Sunday's from 1st October to 26th November 2017, with the 29th October as a lay day.
To encourage IRC Mixed Sportsboat racing, the Winter Series' organisers are offering a separate Class which would cater for boats such as J/88's, Farr 280's, HP30's and Cork 1720's, if entries allow.
The infamous Crew Party will take place on Saturday 21st October and it is advisable to book early for this oversubscribed event.
ends
For further information and sponsorship opportunities:
phone: 02380 452070
Last updated 14:32 on 15 March 2019