HYS Hamble Winter Series 2018 Week 3, with Hamble One Design and Big Boats Final.
Published 10:13 on 8 Nov 2018
HYS Hamble Winter Series 2018 Week 3, with Hamble One Design and Big Boats Final.
Having last week stated that the wonderful 2018 weather was well and truly over; this reporter suffered the writing equivalent of the commentators curse. Wall to wall sunshine and blue skies for Week 3 of the HYS Hamble Winter Series.The problem with high pressure at this time of the year is that it signals no wind and no chance of a sea breeze.
With two championships to be decided this weekend, the Hamble One Design Championship and the Hamble Big Boat Championship, the race team were determined to provide some racing if humanly possible. To this end the Committee Boat headed out of the river at 08.33 on Saturday morning with Bramblemet showing 0.0 knots. By 09.08, AP over 1 was displayed and competitors were informed by WhatsApp to remain ashore and enjoy the coffee.The Ketch Rigger, the Beach Hut, Jenny's Café and Banana Wharf all experienced a boost in their Saturday morning takings. The message to the teams was the same at 10.00, 11.00 and 12.00 with the promise of a decision by 12.30. At 12.15, AP over A was displayed and racing was abandoned for the day.
Sunday's forecast promised less wind with the added attraction of fog! Undeterred, the race teams for crept down the river at 08.36. By 08.47 they were reported to be loitering in the Hamble River, but 20 minutes later the Main Committee Boat signalled they were bravely heading to 4V (Hamble Yacht Services)with AP raised. The news of the Red Funnel Ferry running aground in Cowes prompted the PRO to keep the yachts on their berths until things improved. At 09.51, when all seemed lost, the following message was received:
"The fog is now clearing and we are seeing about 4 knots of wind. Please come out to the starting area 4L (William)."
As the fog cleared a steady stream of boats was seen heading towards the Committee Vessel still flying the AP. The wind was 2-3 knots with a strong tide that would only help them up the course, so they waited. Then it perked up a bit and PRO Kathy Smalley explained "we saw 4 knots and thought let's go for it, we can always abandon. Over 40 boats had turned up, obviously wanting to race, so race they did."
The windward leg was challenging in the conditions, with the wind softening at the top of the course and then shifted to make the run a reach. There were winners and losers as there always are in these circumstances with the symmetrical kite boats seemingly "killed downwind." In the end every boat that started did finish. There was much appreciation from those who drove for a couple of hours or more to get a race in, plus the odd grumble from those who thought it was a lottery.
In Class 1, Pegasus DekMarx, Malcolm Wootton slid home first with Devanti Tyres, Chaz Ivell and Paul Heyes in second and Sailplane, Rob Bottomley in third. In Class 2, J88 Tigris, Gavin Howe saved her time to win from Jiraffe, Simon Perry and Raging Bull, Tim Tolcher. J'ronimo, David Greenhalgh, sailed by Libby, came home in first place in Class 3 followed by Jester, Mike Lewis and then Scarlet Jester, Jamie Muir. Catrina Southworth's "new" Quarter Tonner, Protis, sneaked home to win in Class 4 from Uproar, Andy Chapman and Stan the Boat, Toby Gorman.
The Big Boat Championship was decided on Sunday. Devanti Tyres, Chaz Ivell and Paul Heys, second place was enough to creep past series leader Rob Bottomley in Sailplane by 2 points. Sailplane only managing a seventh in the tricky conditions. Hooligan V11, Nigel Wakefield, had a one point advantage to take third place from Dusty P, Richard Patrick.
Racing on the One Design course for J70 and SB20 suffered the same fate as the day before and was abandoned. This left Clive Bush in Darcy a clear winner in the J70 class with Eat, Sleep, J, Repeat, Paul Ward second and J'Elvis, Martin Dent third on count back from DSP, Doug Struth.
The first place in the SB20s was another countback situation, with Breaking Bod, Charles Whelan overcoming Reach Around, Chrsitian Sutherland. PB11, Paul Hind, was a whole point back in third.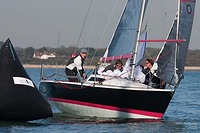 A packed clubhouse greeted the prize-winners of the J70, SB20 and Big Boat fleets.
Next week is HYS Hamble Winter Series 4, after which there is a one week break before the real winter sets in!
Full results here: http://www.hamblewinterseries.com/hals-results
Trevor Pountain
Last updated 15:26 on 30 November 2023